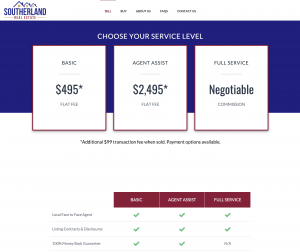 Southerland Real Estate is proud to offer For Sale By Owners an inexpensive way to gain exposure on the local REIN MLS and market directly to the 7,500+ Real Estate Agents and thousands of Buyers actively looking for property in our area (Hampton Roads, Virginia).
How is Southerland Real Estate's Flat Fee MLS Service different from others?
We are local. We don't live in Northern Virginia, North Carolina, or "on the internet". Our Agents live and work in Hampton Roads.
We meet you Face-to-Face.  Our business is based on trust and understanding.  It is difficult to develop that trust on a single phone call, or from an online service that demands upfront payment just to get started.
Our Flat Fee MLS service is simple and all inclusive.  We don't bait you with a low cost option only to charge you more for the add-on products and services you really need.
We don't limit ourselves to office hours.  Our business is serving you.  If that means we need to meet in the evening or take early morning calls, we do it because our Clients are that important to us.
What is included in the $495 Flat Fee MLS Service?
Listing in the local REIN MLS
Listing on the Top 90 Real Estate Websites
All Forms, Contracts and Legal Paperwork Required to List the Property
REIN Lockbox with email/text notifications
Contractor Box (if required)
Includes Photography
Brokerage FOR SALE Sign
Flyer Box with Professionally Designed Color Flyers
You set the Buyer Agent Commission
Property Valuation Report
Unlimited Price Changes & Corrections
Unlimited Duration
Cancel Anytime at no charge
$99 transaction fee at closing (applies only if property sells)
Recently our Clients have expressed an interest in additional assistance beyond what is offered in our $495 Flat Fee MLS Service.  Specifically they want a Realtor that can help them review offers, negotiate terms, prepare and present counteroffers and addenda.  With our new $1,995 Flat Fee MLS, you won't need to hire an expensive lawyer for seemingly simple contractual transactions.
What is included in the $2,495 Flat Fee MLS?
Everything in the $495 Flat Fee MLS above, plus…
Paid Facebook AD Campaign
Social Media Marketing
Just Listed Mailings
Purchase Offers – Review and Advice
Prepare and Deliver Counteroffers
Handle All Negotiations
Coordinate Transaction
Resource Guidance
How do I get started with your Flat Fee MLS Service?