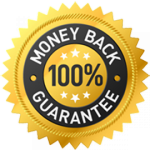 Our 100% Money-Back Guarantee
— HOW IT WORKS —
If you are having trouble selling your house, contact us for recommendations on how to improve your MLS listing and marketing.
If we mutually agree that working with a traditional full-service real estate brokerage provider is the best alternative option, then we will refer you to a real estate brokerage service in your area. If for some reason you are not reasonably satisfied with the real estate brokerage service we referred, we will help you find another one.
Once your house has successfully sold using the brokerage service we referred, send us the HUD statement and/or closing documents, and Southerland Real Estate will refund the flat listing fee that you have paid within 30 days of receipt of acceptable documentation.
NOTE:
Only houses with final sales price of $150,000 or greater qualify for the 100% Money Back Guarantee.
Seller must work with the Southerland Real Estate referred real estate agent to qualify for the 100% Money Back Guarantee.
Only flat fee service fees are refunded.
This Guarantee is void where prohibited.
Southerland Real Estate has the right to change any of these Terms and Conditions at any time by updating such terms on our website.